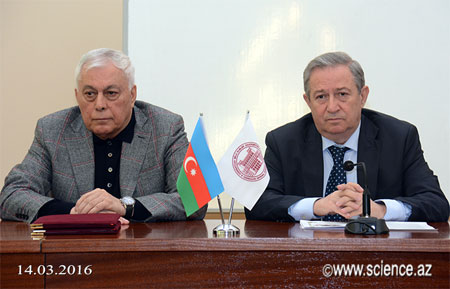 Academician Tofig Nagiyev's 75th anniversary celebrated
Mar 14, 2016 | 02:53 /
Institute of Catalysis and Inorganic Chemistry named after Academician M.Nagiyev hosted an extended meeting of the Scientific Council on March 14.
Opening the meeting, Academician-Secretary of Department of Chemical Sciences, Director of the Institute, Academician Dilgam Tagiyev noted that, the meeting devoted to the 75th anniversary of prominent chemist with order "Shohrat", Vice-President Director of the "Azerbaijan National Encyclopedia" Scientific Centre, Academician Tofig Nagiyev.
Speaking on a prominent scientist's honorable life, rich scientific activity D.Tagıyev congratulated Academician on the occasion of the 75th anniversary. He said that, Academician Tofig Nagiyev was awarded the ANAS Certificate of Merit by the decision Presidium of ANAS for his efficient scientific and scientific-organizational activities in development of Azerbaijan science.
Then, Deputy Director of the Institute of Catalysis and Inorganic Chemistry, corresponding member of ANAS Muhammad Babanli reported on the life and work of the famous scientist.
Passing fruitful creative way, the author of 3 monographs, 490 scientific articles, patents and inventions scientist, who was closely involved in the activities of ANAS supervised for a doctor of science and 22 PhDs.
Noted that, Academician Tofig Naghiyev' scientific activity mainly refers to the study of oxidation reactions, coherent-synchronized via hydrogen – peroxide. He defended PhD thesis in 1967, doctoral in 1974, gained title of professor in 1976. Also, was elected corresponding member of Azerbaijan Academy of Sciences in 1989, while active member of ANAS in 2001. In 2004, has been defined responsible secretary to the Editorial Board of Azerbaijan National Encyclopedia and director of "Azerbaijan National Encyclopedia" Scientific Center. Since 2013 is a Vice-President of ANAS. Notifying about his granting by the government M. Babanly brought to mind his awarding the medal "For decent labor", order "Shohrat" and "State Prize" of the Republic of Azerbaijan.
In the event, Academician-Secretary of the Department of Earth Sciences, Academician Fakhraddin Gadirov, director of the Institute of Chemical Additives Academician Vagif Farzaliyev, director of the Institute of Petrochemical Processes Academician Vagif Abbasov, deputy director of science of the Institute of Polymer Materials corresponding member of ANAS Valeh Jafarov, laboratory head of the Institute of Catalysis and Inorganic Chemistry corresponding member of ANAS Azhdar Majidov, PhD in chemistry Latifa Ahmadova and others made speech on scientist's achievements in oil-chemistry and contributions, shared opinions about him.
In closing, Academician Tofig Naghiyev thanked to attendees and event organizers for attention.
©All rights are reserved. Citing to www.science.gov.az is necessary upon using news.