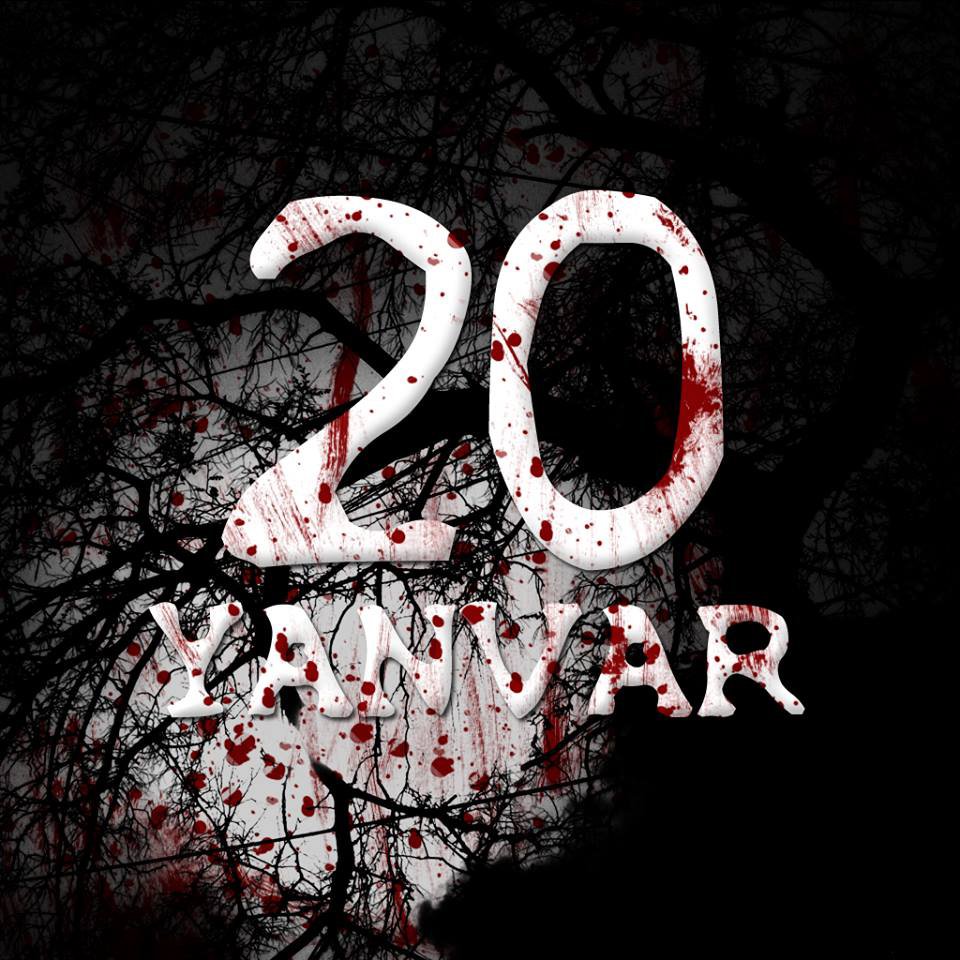 JANUARY 20, 1990-day of mouring and pride for Azerbaijan
Yan 19, 2022 | 02:18 /
JANUARY 20, 1990-day of mouring and pride for Azerbaijan
 By Sevda Mehraliyeva
When I entered my children's room, my attention was caught by my daughter's dolls. I was taken aback with surprize – all of the dolls were wearing black clothes and their heads were covered in the Muslim tradition. Despite myself, my eyes watered. "What is this? Sevinj?" I asked. "Tomorrow is January 20, the remembrance day. Aren't we going to the Alley of Martyrs?", she asked me in reply, while my son extended to me his drawing of a bunch of carnations tied with a black ribbon… 9 years ago, I myself laid thousands of carnations in the blood-stained streets of Baku.
In 1988-1990, people of Azerbaijan led the struggle against the Soviet empire and it was Azerbaijan that was selected by the Soviet empire as a republic to teach a lesson of obedience for other nations seeking independence to follow.
In early morning of January 20, special armed detachments entered Baku from the north. This so-called gate of Baku had already brought the nation tragedies in 1796, 1813, 1828, 1905, 1918, 1920, and at last in 1990. In January 1990, the developments in Azerbaijan reached their peak. People began demanding secession from the USSR in a constitutional way. Then leadership of the USSR, currently Russian premier Primakov, and Girenko, arrived in Baku to hold negotiations, which actually meant a clandestine preparation for the introduction of troops: modern military machinery was accumulated in Baku and an army of 66,500 soldiers sent to Azerbaijan. Azeri police were disarmed and starting from January 15 all hospitals were cleared from patients. In the evening of January 19, KGB blew up the energy block of the Azerbaijan TV. On the same day, communication systems were disrupted in Baku.
The Soviet state could not perpetrate its crimes directly, as it wanted the world community to have a different look on the events later on, and it easily managed to find a pretext for the operation. 225 Azeris, who perished in Armenia and 200,000 who were ousted from their homes, were destined to become the first victims (back in 1905, in order to instigate an uprising, a killed Armenian's body was thrown to a mosque and a killed Azeri's corpse was planted in a church). The brutal plan succeeded. On January 19, at 10:40 p.m., when the troops were entering Baku, there were thousands of people in the streets opposing their advance. Despite all the demands from international organizations, fire was opened at the unarmed people and tanks trampled them down. The thugs used internationally prohibited bullets of 5,45 mm calibre with shifted center. Even a fire truck with only a driver within was shot.
Red army shoots its own monument
Having thus surmounted the first live barrier, the army reached the Square named after the 11th Red Army, which in 1920, helped the Red Army, at the expense of 48,000 Azeris' lives, to establish the Soviet Power in Azerbaijan. The square was subsequently named after the 11th Red Army and a monument to it was erected there. Early in January 20, most of the demonstrators gathered on the square. Tanks approached the pedestal trying the scare people away, but people did not retreat, and tanks went forward, shooting at the innocent people and at the monument to the Red Army. After this night, both the metro station nearby and the square were named after January 20.
Fire at were not only at people in the streets, but also at the republican hospital, nearby apartment buildings. Tanks trampled down cars, trees and even demolished  a wall of an apartment building. An ambulance van with doctors inside was shot. One is tempted to ask a question, that if the Soviet Army had come to rescue Russians, Armenians, why were there Russians among the first victims, why were people killed in their apartments. A 16-year old Vera, 11-year old Larisa, an old blind man were among the first to perish.
On that night, people fought for their freedom and independence with whatever they could reach. They were killed chanting "Freedom" and "Independence". This was the longest night in the history of Azerbaijan, as people were bidding farewell to their Russian brother.
By dawn, the shooting stopped and the first order by the military commander of Baku was read. He was ordering to introduce curfew and forbidding people to gather in the streets. This did not frighten people either. Several hours later, there were millions of carnations in the streets.
Witnesses of the bloody night were demanding explanation from the state. The first secretary of the CC Vezirov fled to Moscow. At 1.40 p.m., the sound of submachine guns could be heard again at a protest rally and although the fire was into the air, several people were injured. It is curious whether this army could believe that after everything that has taken place in Azerbaijan ever since, Azeri Russians will be defending the country's territorial integrity, and some will even become national heroes of Azerbaijan.
The army was not satisfied with the what happened on the 21st, 22nd and 23rd. On the 24th, a tank destroyed a car with 3 doctors inside.
The longest mourning
This decision was made by the nation. Victims of the tragedy will be buried in Baku's most beautiful place, the Upland park. What is this park and where is it? In 1918, in a stand-off between Azerbaijanis and Armenians instigated by the Russian empire, 10,000 Azerbaijanis were buried in this cemetery. The Soviet empire, before destroying a nation, first deprived it of its language, then of its memory and history. As a result of this policy, a park was built in place of the cemetery. One of the first leaders of the Soviet Azerbaijan, a Russian by nationality Kirov's monument was erected in the park. Soviet Azerbaijanis, unbeknown to them, would dance and drink on the ashes of their forefathers. This was a triumph of the Soviet life-style. Three graves from that period were discovered and new victims of the Soviet regime joined them in eternity.
The entire republic came to see the victims off and the longest mourning in history of Azerbaijan commenced in Baku. Enterprises stopped and only strategic objects were functioning. 7 million in the North Azerbaijan and 27 million in Iran lamented the victims for 40 days. No music sounded in Azerbaijan for 40 days. The families who lost a member mourned him, while those who didn't mourned all the 170 (first officially reported figure). 131 of 70 were buried in Baku, including 6 Russians, 3 Tatars, 3 Jews and 1 Lezghin. 706 people were wounded and 321 were unaccounted for. Later on, news of the unaccounted for would be arriving from various jails of the ex-USSR and bodies of some more would be discarded by the sea to the shore.
Years have elapsed. January 20 was embedded in the history of Azerbaijan as a day of national tragedy, while the Alley of martyrs has become a pilgrimage site.
Who were the victims?
Three lives broken by one bullet
1500 years ago, according to a legend, a beautiful girl, who lived on top of a high tower in the middle of the sea, learned that her beloved one had died and threw herself into the sea. Azerbaijanis never bring to question this legend, because there are many cases at present when Azeri girls sacrifice their lives for their beloved ones. There have been many cases during the military action in Upper Karabakh, when women killed themselves in order not to fall into Armenian captivity.
On January 20, a 28-year old Ilham was killed. He and Fariza had been married for 6 months. When he was being buried, he wife was not there, because at that moment she was committing suicide. She and her unborn baby were also buried together with Ilham. This is how another legend was born. Young people, before starting a family, still come to their grave and swear to each other.
January born and killed in January. The 33-year old January, born on January. I would frequently joke that his birthday was celebrated worldwide. He did not know than that his death would be deplored by the entire nation.
At present, his wife Almara with whom he had lived only for 3 years, is fostering an 11-year old Hasan. The son does not remember his father, he remembers him only by his picture. There has been no one to decorate an X-tree for him and every year on January. First he comes to his father's grave.
School children's graves – Among the victims were schoolchildren. 15-year old Vera Bessantina was killed in her apartment and an 11-year old Larisa was shot point blank  when leaving a bus together with her father. Ilgar was shot on his balcony.
Killed in prayer – On January 20, a 78-year old Suraya, having heard shots, started praying for those outside in danger. A bullet found her during her prayer at home.
Years have elapsed, Azeris, regardless of the nationality and age, reverse the memories of the killed. Every year on the national mourning day, people relive the developments and pilgrim to the Alley.
The statistics of the January 20 slaughter
Emperial murderers used an army consisting of 5 thousand soldiers to commit the slaughter;
9 thousand of these consisted of army detachments with various assignments;
6 thousand were soldiers and officers of internal forces;
1000 were students
IN ORDER TO COMMIT THE BLOODY JANUARY 20 SLAUGHTER THE FORCES WITH SPECIAL ASSIGNMENTS WERE BROUGHT TO BAKU ON THIS SCHEDULE:
On January 11 – 2.557 soldiers;
On January 12 – 1.061
On January 13 – 710
On January 14 – 1.415
On January 16 – 1.600
On January 17 – 225
On January 18 – 190
On January 19 – 60
The victims of the January 20 slaughter
The slaughter of the emperial murderers in Azerbaijan caused the death of 131 people, of whom 122 were men, 5 were women and 4 were children.
117 Azerbaijanis
6 Russians
3 Tatars
3 Jews
4 school-children
12 students
3 doctors of science
1 postgraduate student
1 doctor
4 police employees
As a result of the attack by military detachments in Baku and Azerbaijan's provinces 744 people including 25 women and 20 children, were wounded, and 841 people were illegally arrested.
During the military operation 200 houses were burned, destroyed and plundered. 80 cars, a lot of state and private properties were demolisheds.